The Royal Society of Edinburgh (RSE) announced the names of 60 distinguished individuals who have been elected to become Fellows of the RSE on February 15, 2017.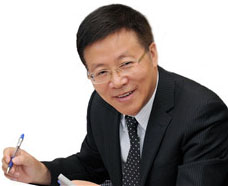 CAS Academician LIU Congqiang (Image by IGCAS)
CAS Academician LIU Congqiang, former Director of IGCAS, is amongst those named by RSE to become a Corresponding Fellow.
Established in 1783, the RSE is a leading educational charity aiming to provide public benefit throughout Scotland. The work of the RSE includes awarding research funding, leading on major inquiries, informing public policy and delivering events across Scotland to inspire knowledge and learning.
The RSE elects new Fellows each year through a rigorous five-stage nomination process and now has around 1600 Fellows from a wide range of disciplines.
President of the Royal Society of Edinburgh, Professor Dame Jocelyn Bell Burnell, commented, "Each newly elected Fellow has been nominated on their exceptional and extensive achievements; it is a great honour to welcome such a range of outstanding individuals to the Fellowship. In joining the RSE Fellowship, they will strengthen the Society's capacity to advance excellence across all areas of public life in Scotland and further afield."
The RSE's Fellowship comprises Honorary Fellows (members of the Royal House or persons eminently distinguished in any subject within our disciplinary domains), Corresponding Fellows (those who have attained high international standing in any subject within our disciplinary domains, and are not normally resident in the UK) and Fellows.
Source from: http://www.rse.org.uk/wp-content/uploads/2017/02/Press-Release-The-RSE-welcomes-60-new-Fellows.pdf
Find more about the Royal Society of Edinburgh
(Edited by XIAO Yi)