XRF (X-ray fluorescence spectrometry) is a non-destructive analytical technique used to identify and determine the concentrations of elements present in solid, powdered and liquid samples.

XRF is capable of measuring elements from Beryllium (Be) to Uranium (U) and beyond at trace levels often below one part per million and up to 100%.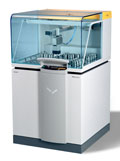 The XRF spectrometer measures the individual component wavelengths of the fluorescent emission produced by a sample when irradiated with X-rays.

Apparatus: Axios(PW4400) X-ray Fluorescence Spectrometry
The Axios range of wavelength-dispersive XRF spectrometers is advanced, rapid, and easy-to-use. The Axios (PW4400) versions are robust – built to assure you of the precision required in tough and typical production control environments. The system is ergonomically designed to be highly accessible. Axios systems can handle up to 168 samples at a time and are able to measure and analyze a variety of samples including solid pieces, pressed and loose powders, fused beads, liquids, foils, granules, and thin films. Sample handling is more advanced than ever, with an integrated sample changer and a choice of loading mechanics.
QuickStart for quick results
The software of the Axios SuperQ QuickStart module makes routine analysis as simple as placing a sample in the spectrometer. The measurement medium is selected automatically.
Application
Among the industries that the Axios serves with this approach are Cement, Petrochemicals, Industrial Minerals, Mining, Metals and Polymers and Plastics.