Invited by Dr. YIN Runsheng at the State Key Laboratory of Ore Deposit Geochemistry (SKLODG), Dr. Sae-Yun Kwon, an assistant professor from the Pohang University of Science and Technology, visited IGCAS during May 26th to Jun 2nd, 2019.
On May 30th, Dr. Sae-Yun Kwon presented a talk titled "Mercury Isotope Studies of Sources and Processes in Aquatic Environment". In her talk, Dr. Kwon introduced her latest geochemical results about mercury isotope source tracing in the aquatic food chain, historical records of mercury isotopes in global sediment cores, and mercury bioaccumulation in rice paddies. In addition, the uses of mercury isotope as a tracer to understand the sources and fates of Hg in the environment were well introduced. Dr. Kwon's work could lead to better understanding of the global cycling of mercury, and her report stired up great interest among the audience.
During her stay in IGCAS, Dr. Kwon also visited the main facilities, and discussed the future collaboration with several professors.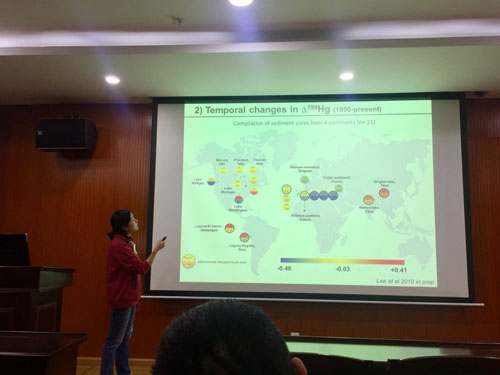 Dr. Sae-Yun Kwon presenting the talk
(By Prof. YIN Runsheng's group)