Invited by Dr. YIN Runsheng at the State Key Laboratory of Ore Deposit Geochemistry, Dr. Stephen E. Grasby, a senior research scientist from the Geological Survey of Canada, visited IGCAS during November 9-13.

On November 10th, Dr. Stephen E. Grasby presented a talk titled "The Latest Permian Extinction and Prolonged Early Triassic Recovery – insights from the Canadian High Arctic". In his talk, Dr. Grasby introduced his latest geochemical results (elemental geochemistry and mercury isotope geochemistry) about the Late Permian extinction event in the Canadian Arctic and in the Meishan, China. The causes, environmental impacts and latterly ecological reconstruction of the extinction event were well introduced. Dr. Grasby's work have largely improved the audience's understanding of the details about the extinction event during Earth's history (e.g., large-scale volcanic eruptions, wildfires, global warming), and the report has aroused wide interest among the researchers and students who listened the talk.

During his stay in IGCAS, Dr. Grasby visited the main facilities, and discussed the future collaboration with several professors.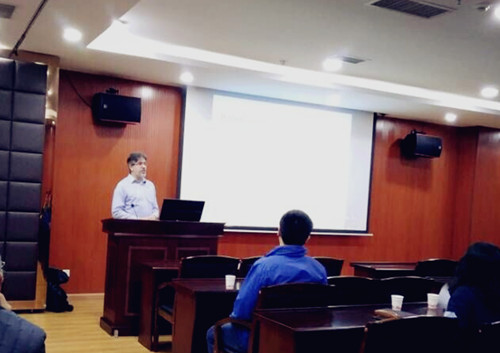 Dr. Stephen E. Grasby giving the talk


(By SUN Guangyi)