At the invitation of Prof. HU Ruizhong, Prof. Finlay Stuart from University of Glasgow, UK took an academic visit to the State Key Laboratory of Ore Deposit Geochemistry (SKLODG), Institute of Geochemistry, Chinese Academy of Sciences (IGCAS) from March 25th to April 4th.
During his visit, Prof. Finlay Stuart discussed with the IGCAS researchers including HU Ruizhong, ZHONG Hong, WU Liyan and HUANG Yong. They discussed the ore-forming mechanism of Jinding Pb-Zn deposit, Zijinshan Cu-Au deposit, and Carlin-type gold deposit in Guizhong Province and their geochemical features. With Prof. Finlay Stuart's help, great progress has been made in the Noble Gas Isotope Mass Spectrometry Lab and Ar-Ar Geochronology Lab in terms of analytical efficiency and data preciseness and accuracy.
On April 1st, Prof. Finlay Stuart gave a presentation titled "Geochronology and thermochronology using the (U-Th)/He technique: Background, methods and applications" in the SKLODG conference room. His talk introduced the (U-Th)/He dating system first, and then demonstrated how the system was used both as a thermochronometer to unravel the cooling history of mountain belts, and as a chronometer of mineralization.
Finlay Stuart is a Professor of Isotope Geoscience at Scottish Universities Environmental Research Centre (SUERC), University of Glasgow. He graduated in Geology from University of Dundee in 1988, and then went to University of Manchester to pursue his Ph.D. under the supervision of Prof. Grenville Turner. During his Ph.D. study, he developed techniques for studying the isotope composition of volatiles in fluid inclusions, and also applied the techniques to granite-related mineral deposits, hydrothermal fluids in mid-ocean ridge sulphides and deep crustal fluids trapped in granulite-facies metamorphic rocks. After his graduation in 1992, he worked as a post-doc at Manchester for 3 years until he returned to Scotland to take a faculty position in the Isotope Geosciences Unit at SUERC.
Prof. Finlay Stuart has applied gas isotope geochemistry to a diverse range of topics, such as using cosmogenic isotopes to determine the rate of landscape evolution, and using noble gas and stable isotopes as tracers for underground CO2 storage projects and onshore natural gas exploration.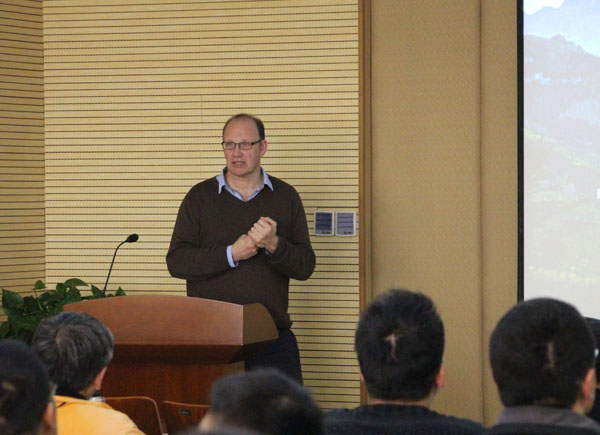 Prof. Finlay Stuart at the presentation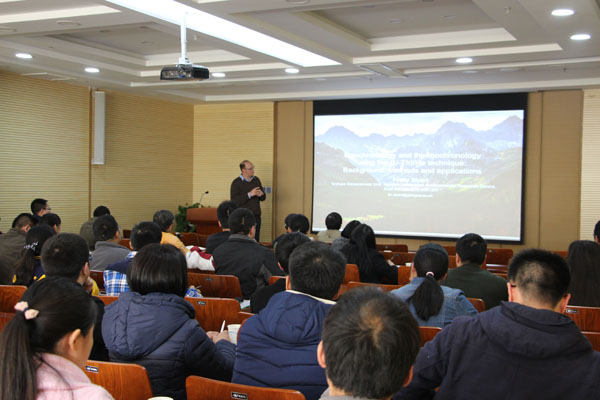 The audience
(By HE Defeng)