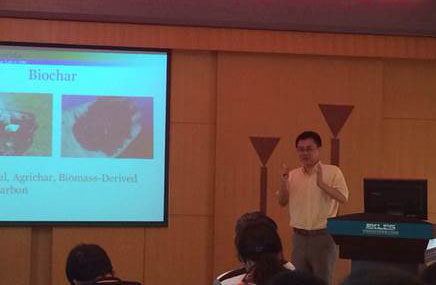 Dr. GAO Bin at the presentation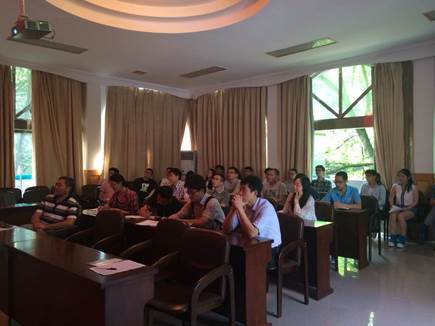 The audience
At the invitation of Associate Professor WANG Bing at the State Key Laboratory of Environmental Geochemistry (SKLEG), Dr. GAO Bin from the Department of Agricultural & Biological Engineering at the University of Florida visited IGCAS from June 16 to 18.

During the visit, Dr. GAO Bin toured around the SKLEG and had a constructive discussion with Prof. LI Xinqing's group about their future collaboration on the research of biochars.

On the morning of July 17, Dr. GAO Bin presented a talk titled "Engineered Biochar & Environmental Sustainability", which attracted many faculty and graduates to participate in. Prof. LI Xinqing hosted the seminar.

Dr. GAO Bin's presentation started with a brief introduction of pristine and engineered biochars, followed by the review of biochar preparation technologies. By comparing the advantages and disadvantages of different types of biochars, Dr. GAO Bin proposed the idea to combine the biochar technology with other emerging technologies (e.g., bio- and nanotechnology) to make high adsorption engineered biochars which can be used in a wide range of applications, including the improvement of soil quality and productivity, and the enhancement of water and air quality.

With interesting images, Dr. GAO Bin well illustrated their recent results in studying the engineered biochars for absorbing various hazardous substances including toxic heavy metals, organic pollutants, antibiotics, and greenhouse gas.

"Our results suggest that both pristine and engineered biochars have good sorption capacity to inorganic and organic compounds and thus can be used as low-cost sorbent for various applications to improve environmental sustainability," he concluded.

At the end of his talk, Dr. GAO Bin had an interactive discussion with the audience and answered their questions.
GAO Bin is an associate professor in the Department of Agricultural and Biological Engineering (ABE) at the University of Florida (UF). He earned his Ph.D. degree in Environmental Engineering at Cornell University. His research spans a broad range of topics including environmental nanotechnology, biochar technology, environmental sustainability, contaminant hydrology, and hydrologic modeling. Dr. GAO Bin is a recipient of the NSF CAREER Award (2011), Outstanding Young Researcher Award (FL-ASABE, 2012), and Giglia Endowment Award (UF- IFAS, 2012). He has published 94 peer-reviewed research papers in top-ranking journals, contributed 6 book chapters, and applied 6 patents.
(By WANG Bing and XIAO Yi)