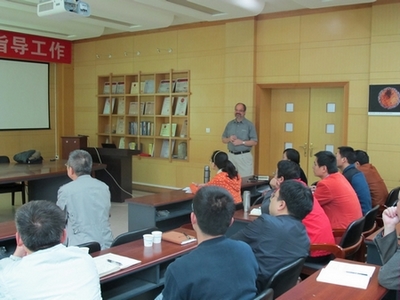 Dr. Michael Wiedenbeck giving presentation
Invited by Prof. SONG Xieyan at the State Key Laboratory of Ore Deposit (SKLODG), Dr. Michael Wiedenbeck from Helmholtz Centre Potsdam has visited Institute of Geochemistry, Chinese Academy of Sciences (IGCAS) during April 22-24.
Dr. Michael Wiedenbeck has been dedicated to develop new microanalytical applications in order to solve questions in geochemistry, paleontology and environmental researches for many years. He has made remarkable achievements in these fields, particularly, in developing the secondary ion mass spectrometry (SIMS) technology. He has proposed the establishment of a world-wide network for access their instrument using remote SIMS technology developed in Potsdam, which contributes greatly to the developments and applications of SIMS.
On the morning of April 24, Dr. Michael Wiedenbeck presented a talk entitled "Introduction to SIMS and Current Activities in the Potsdam User Facility" at the SKLODG lecture hall. He firstly introduced the basic features of SIMS and then compared differences between SIMS and LA-ICP-MS. The advantages and sample preparations of each technique were also presented in his talk. Finally, the key applications of SIMS to solve questions in Environmental Studies, Paleoclimate, Geochronology and Petrology were highlighted, showing the unique advantage of SIMS in isotope geochemistry, such as B, C, O, S, Pb.
With interesting images and funny illustrations, Dr. Wiedenbeck's presentation was well-delivered and easy to understand, receiving applause and cheers from the audience. At the end of the presentation, Dr. Wiedenbeck had a thorough discussion with the audience and answered many questions.
(By SONG Xieyan Group)